Kryptos Platform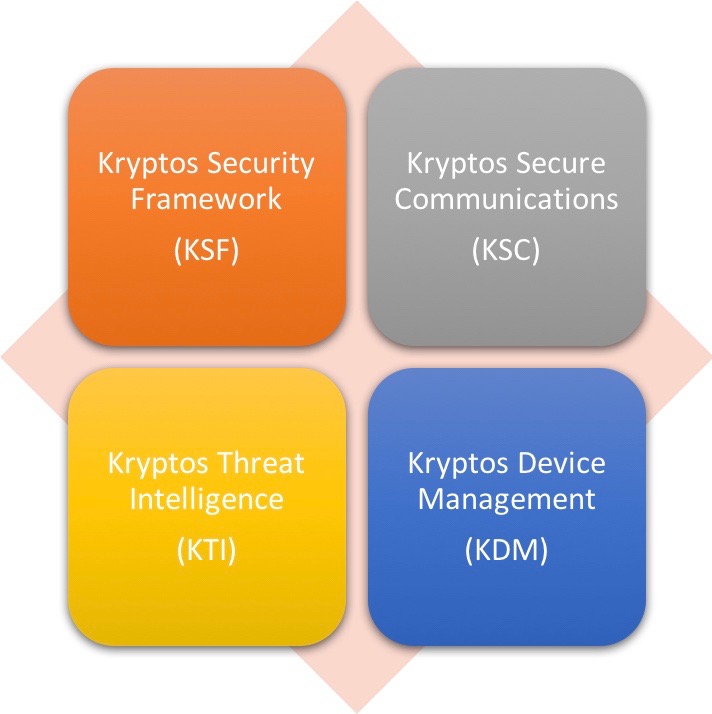 Product: Kryptos Platform
Our platform's core is a "secure android build" that includes extensive low level customizations to the stock android OS. We provide a 'secure by design' solution including a suite of apps designed to enable our customers to communicate securely, protect sensitive data, and monitor potentially malicious activity.
Kryptos Platform consists of four components:
Kryptos Security Framework
Kryptos Secure Communications
Kryptos Device Management
Kryptos Threat Intelligence
We offer Kryptos platform in two flavors:
Venus – Software based security solution
Saturn – Hardware Enhanced security solution
Kryptos-Venus: High Level Architecture
Hardened AndroidOS with support for custom security policies
Kryptos Secure Communication Suite Apps for vpn, contacts, text, voice, email.
Kryptos-Saturn: High Level Architecture
Venus Features plus additional hardware smart-card security
microSD Card with crypto processor for key generation & storage, challenge & response, encryption & decryption, and secure storage
Key Differentiators of our solution:
Configurable Best-in-class Software Security

End-to-end 3x hardened Android, double encrypted apps and secure backend integration

Advanced Hardware Security

Most advanced hardware crypto processor for key generation/storage, challenge/response, encryption/decryption and secure data storage.
Designed and certified in Europe

Integration

Works with ALL Android L or later devices.
Supports industry standard PKCS#11, CSP, ISO-7816 APDU and is FIPS 140-2 certified

Cost

3X secure at half the price of iOS solution
Reduced cost of long term ownership